Scientists, Anglers Partner to Research Striped Bass
Announcements | Dec 31, 2016
Recreational anglers will tell you, pound-for-pound, few fish fight like a striped bass.
A premier target of Maine sport fishermen, stripers have long been a cornerstone of Maine's recreational saltwater fishery.
But catches have declined dramatically in recent years — with landings down by 90%, according to some estimates — leaving both scientists and fishermen searching for answers. To that end, GMRI has partnered with the Maine chapter of The Coastal Conservation Association to launch a citizen science initiative called Snap-a-Striper.
This year, our Research team recruited anglers, fishing guides, and captains to participate in this study. In 2016, 44 of these citizen scientists helped compile 486 photos, making it the most successful year to date.
The project also earned attention from local media, and was featured on an episode of Bill Green's Maine.
The program is a data collection effort that aims to compile photos of live-released and legally kept striped bass caught in Maine waters. In addition to the photos, anglers saved and froze the heads of legally harvested fish for further analysis in the lab.
Here's how the process works:
When an angler catches a striped bass of any size, he quickly fills out a data card provided by GMRI and CCA. The card provides simple information — the angler's name, the date, the generic location of the fish, etc.
The angler then places this 3×5 inch card next to the fish, snaps the photo, and then either releases or harvests the fish (if of legal size).
In addition to emailing the photo to GMRI, anglers are also asked to remove the head of any legally harvested fish, freeze the head in a plastic bag with the original card, and email [email protected] for pickup or delivery instructions..
From there, GMRI scientists, Lisa Kerr and Graham Sherwood, will use the photos and samples to explore the origin of each fish.
Understanding where these fish came from is crucial to understanding where they have gone. Together, scientists and recreational anglers aim to find answers through the Snap-a-Striper initiative.
Below, GMRI Research Associate Zachary Whitener, a dedicated striper-fisherman and registered saltwater guide himself, shares his experience working on the project.
Here's what Zach has to say about Snap-a-Striper: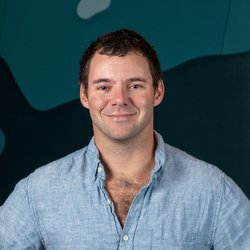 Zachary Whitener
Senior Research Associate, Vessel Safety Officer
Snap-a-Striper is a truly unique research project, and I feel lucky to be a part of it for a number of reasons. Here are just a few…
Catch and Release:  As an angler, I'm a big fan of catch and release. As a scientist, I currently have to harvest and dissect the fish I study. The end goal of this project is that we'll know where a striper comes from just by the shape of its body. All the data we'll need will be in the fishermen's photos. That means more fish in the ocean, and less in my lab.
Dealing with Climate Change: It's so important for us scientists to know the effects of warming oceans on fish. This project will show us the status of Maine stripers now, so in the future we can compare changes in temperature to changes in the fish population.
Recreational anglers get a say: One of the coolest parts of the project is that local sportfishermen can engage in real science to protect a species we all love.
Local Jobs: I grew up making my living on the water, and I know how tough it can be. While stripers aren't harvested commercially here in Maine, the recreational fishery supports jobs in tourism along our coast, from charter boats, to tackle shops, to bed and breakfasts.
Stripers are important in so many ways and the more we can learn about them, the better. I love this program, and can't wait to take it to the next level. Oh, and if you haven't had a chance to try striper fishing yourself – get out and try it this summer. And don't forget to snap a photo for us!